(A repost from my old myspace blog, but wanted to share it here. It's still spring, you know).
I've been watching a LOT of movies from the 1930s and 40s. And as is my wont, I have started to fall in love with a number of the actresses who appeared in these films. There are a lot of other "classic" beauties that you may have heard of -- Jean Harlow, Carole Lombard, Lana Turner, etc. But you may not have heard of these really beautiful talented actresses.
Luise Rainer is still alive -- she's in her 90s and living in her native Germany. Quick -- who was the first performer to win TWO Oscars -- and back to back no less? Yes, it was Luise Rainer. She had emigrated from Germany (it was a bad time for Jews) after a brief career working with legendary director Max Reinhardt. She never really cottoned to Hollywood, and would show up to parties wearing trousers (shocking) and no makeup. In one of the more bizarre Oscar stories, Luise appeared in only a couple scenes of "The Great Ziegfeld" starring William Powell, as Ziegfeld's legendary star and paramour Anna Held. There's a scene where she's on the phone to Ziegfeld that is an amazing piece of acting, and basically for that scene she won the Oscar in 1936. That was the first year there were supporting player awards, but MGM decided to list Rainer in the lead category where, much to their apparent chagrin, she defeated fellow MGM nominee (and wife of the studio head) Norma Shearer. At 25, still a relative unknown, she was Hollywood's greatest actress. The following year, Thalberg -- who was to die within months -- cast her in "The Good Earth" opposite Paul Muni. The couple played Chinese farmers, and Rainer's performance in the epic is almost wordless (Muni is quite talkative). Stripped down with a mere suggstion of Asian makeup, it's one of the most brilliant performances of restraint and focus in an era better known for broadness of characterization. She won the Oscar again, but within a few years had essentially retired and eventually returned to Europe after the war. Whatever she lacked in glamour and "natural" beauty she made up for in talent and dedication.
Mary Astor was a studio mainstay for a long time. You may have seen her in "The Maltese Falcon," but she was also dynamite in comedies like "The Palm Beach Story." She played a lot of leads in some lesser films -- she made over 40 films in the 1930s alone -- and then settled into character and supporting parts. She was also known in the late 1920s as the author of one of Hollywood's most notorious diaries. As a young beauty queen under contract to MGM she had caught the eye of John Barrymore, but that wasn't anything to write home about as Barrymore was a legendary lothario. The story that got everyone chatting was that Astor's choice for her favorite lover -- a man she would "go over a cliff for" -- was writer George S. Kaufman, who was notoriously bizarre and not particularly attractive. Astor claimed that Kaufman gave her twenty orgasms in one night.
Olivia de Havilland is also still alive, she's 90. She was a kid at Mills College in Oakland when Max Reinhardt (again) spotted her in a production of "Midsummer" and cast her in his film version. She initially played a number of young ingenue roles, but finally got a starring role and a Best Actress nomination for a film called "Hold Back the Dawn." She lost to her sister, Joan Fontaine (for "Suspicion"). Imagine the awkward Thanksgiving. Anyway, Olivia channeled her fury at the studios; she was sick of playing helpless young things and the studio suspended her, then told her that she "owed' them time on her contract for the time she missed. She sued them and the result was a new regulation stating that actors could not be forced to "make up" time lost on a contract. Good for you, Olivia. She ended up winning two Oscars.
I've been in love with Myrna Loy for years. As a young actress, she was absolutely ravishing -- she's nude in a pool of flowers in the film "The Barbarian" with Ramon Navarro and it'll stop your heart. She eventually became an awesome comedic actress in "The Thin Man" films with William Powell (he was a really lucky guy, he also married Carole Lombard), and played Billie Burke (who played Glinda, the Good Witch of the North), the other great love in the life of "The Great Ziegfeld" opposite Powell. Here's something you didn't know: a young Myrna Loy was the model for the statue of the Virgin Mary that is located outside Venice High School in Venice California -- which is seen in the film "Grease" as Rydell High.
Ella Raines didn't make that many movies, but in Preston Sturges' "Hail the Conquering Hero" she plays the love interest of "war hero" Eddie Bracken, and I think she's probably Sturges' most beautiful actress (and yes, I'm counting Barbara Stanwyck and Veronica Lake). She was a discovery of Howard Hawks and got into a few decent films, but never really became a star. She's stunning.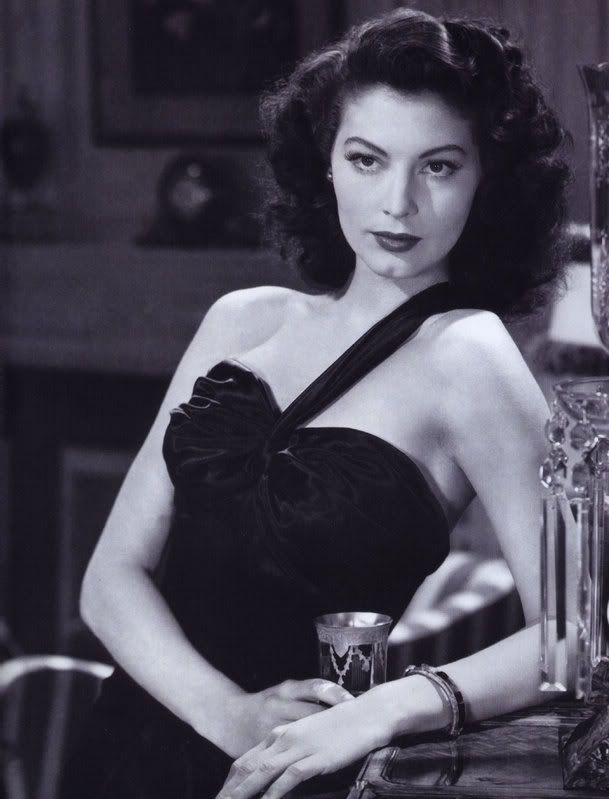 Okay, I'm jumping ahead a few years, but Ava Gardner is simply one of the most beautiful women to ever work on film. She wasn't a great actress (she had no training and very little confidence, though she fairly decent work later in her life). She married three major celebrities -- Mickey Rooney (one of his eight wives), bandleader Artie Shaw (ditto) and Frank Sinatra (when his career was faltering), and never had any kids, later admitting she'd had an abortion when pregnant with Sinatra's child. As she grew older, she got a reputation as being a good sport and apparently could swear like a drunken sailor. In the really crappy disaster film "Earthquake," she did her own stunts. Perhaps the most impressive stunt was playing the part of Charlton Heston's mother -- even though she was only two years older than Heston himself.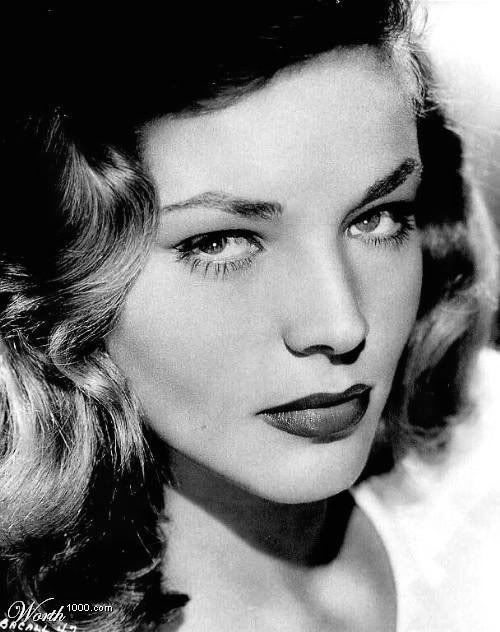 I saw Lauren Bacall about a year ago at JFK Airport, she was waiting for the same plane that I was. Unfortunately, the plane was delayed and she ended up on another flight. But for about two hours, I got to sit about five seats away from her in the waiting area, my hands sweating because I actually had a book with her picture in it (from "To Have and Have Not") and I was sure that if I called her "Betty" and threw out her son Stephen's name she's talk to me (I don't know Stephen, of course, but I'd seen him at some events). But I couldn't, I left her alone. She had a dog with her, a VERY well manicured little thing (and well-mannered, too). While her bumbling chauffeur/driver guy was trying to get her on a flight, Betty just sat there waiting. People walking by would notice the dog first, and make little noises and bend down and pet the dog, saying "Who's so CUTE?" and then look up and realize that they were talking to Lauren Bacall's dog. She seemed mildly amused that Sophie (the dog) was getting all the looks, although she was pissed off about the plane (we were getting no information on why the flight was postponed, and Betty had flown in from Paris and was just making a connection). Well, take a look at her early films. She was 19 when she made "To Have and Have Not" -- again, another Hawks discovery. (Side note: some men in Hollywood have exquisite taste. Hawks was apparently determined to seduce Bacall, but she fell head over heels for Bogart. Hawks instead got together with Dolores Moran, one of Hollywood's bustiest starlets, who was in a minor role. Pics of Moran here, she was also hot beyond belief). She married Bogie when she was 20, and with him stood up to the HUAC (google it) even though it could have cost her her still-new career. After Bogie's death, she married Jason Robards for a while (she's the mother of Robard's son Sam, who is a really good actor himself). I don't think she's ever been considered a great actress -- she's more in the mold of drop-dead-gorgeous movie star. But she's still working and has done some interesting stuff in the last few years, including an amazing bit of craft in Lars von Trier's "Dogville." And she always held her own with Bogie in her early films -- no easy task.
Beauty may be skin deep, and glamour may be bullshit. But all of these women had talent and personality and balls and that's what makes them hot and worthy of my decades-removed admiration.